Nippon Zettoc made new kids toothpastes for soft and fragile teeth of children.
Gentle and safe materials were carefully selected to encourage children enjoy their tooth brushing.

Low Stimulation

Synthetic dye free
Fluoride free
Artificial sweetener free
Sulfate free
Mineral oil free

Low Abrasion

Dual fine silica cleans the teeth thoroughly but gently.

Low Foaming

Easy for kids to learn proper brushing technique.

High xylitol content of 25%

prevents cavities and strengthens teeth. Xylitol is a naturally occurring component in many fruits and vegetables.

Flip-up cap

is easy
for kids to open.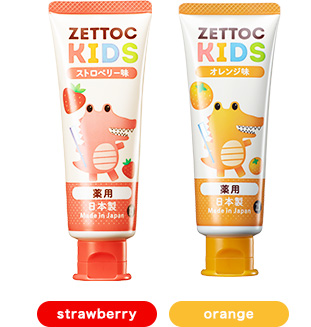 There are strawberry flavor and orange flavor.
For 7 month old babies and above.
Zettoc Kids Toothpaste
70g