Nippon Zettoc provides high functional "kids toothpaste" with the updated technology to achieve a goal
for improving oral care for children in China and Asian countries.
We pursued the gentleness and safety to encourage children enjoy their tooth brushing .

Gentle and safe toothpaste for children
High xylitol content of 25%.
Strengthens tooth structure, preventing the occurrence and progress of cavities.
The product does

not contain

sweetener which creates

"acid" that causes cavity.

Two types of fine soft silica

to remove food particles.
The paste is low abrasive to prevent damaging children's sensitive teeth or gum.

Cetylpyridinium chloride (CPC),

sterilizing effect active ingredient reaches far back to every corner of teeth and

kills cavity causing bacterium.

By considering excess intake of fluoride, Zettoc Toothpaste which has cavity prevention effect sufficiently,

The product does not need to contain fluoride.

Strawberry and Orange flavor that kids love
Low foaming to brush for appropriate amount of time.
Flip up cap is easy for kids to open.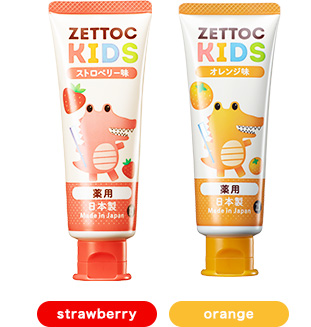 There are strawberry flavor and orange flavor.
For 7 month old babies and above.
Zettoc Toothpaste Child Care (Gel type)
60g
Click here for more info about products and distribution shops
Click here for your inquiry